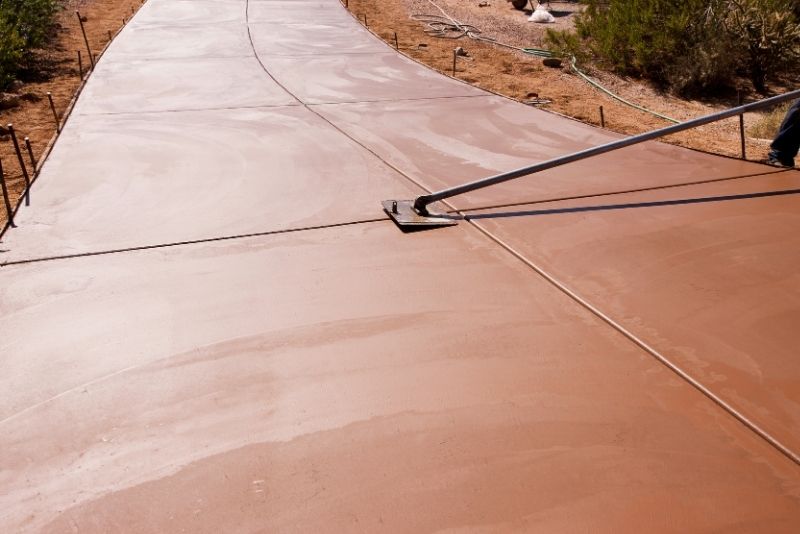 Get Perfectly Polished Concrete Floors in Newcastle
As a homeowner looking to upgrade their property, you know polished concrete floors are the perfect touch. Not only do they offer stylish looks that elevate your home interior design, but this flooring also has other benefits; it can last for years and is easy to maintain. But how do you get these beautifully sleek and glossy floors in Newcastle? Well, we've just the guide for you with our "From Start to Finish- A Guide to Polished Concrete for Homeowners in Newcastle"! In this post, we'll walk through everything from understanding what goes into creating polished concrete surfaces in your home or business space to when the finished product will be ready! Read on as we take you every step of the way through this exquisite process!
What is Polished Concrete, and How Does It Benefit Homeowners in Newcastle
Polished concrete is a process that uses diamond abrasive tools and finer grinding discs to grind down the surface of the concrete. This method results in a smooth, glossy finish with enhanced reflectivity, making it look like marble or granite. In addition to its stunning appearance, polished concrete also offers several benefits for homeowners in Newcastle:
• Durability: Polished concrete requires minimal maintenance and is incredibly durable.
• Cost-Effectiveness: polished concrete is cost-effective in the long run because of its long-lasting nature.
• Easy Cleaning: The smooth surface of polished concrete makes it simple to keep clean! You can check out Origin Concrete Newcastle and see more on its benefits
What Tools Are Needed to Create a Professional, Durable Finish
Creating a polished concrete surface requires a few essential tools to ensure the job is done correctly. Here's what you'll need:
• Angle grinder with diamond grinding blades
• A vacuum cleaner or dust extractor for collecting concrete dust
• Water-based concrete sealers, such as epoxies and acrylics, to protect against staining and enhance the appearance
• Wax or polish for additional protection and shine
• A buffer to refine the surface after grinding and polishing
Preparing the Floor for Polished Concrete- Steps to Follow
Creating a polished concrete floor is relatively straightforward but requires some steps. Follow these instructions to get the perfect finish you're looking for:
• Start by removing any existing surface sealers, coatings, or other materials from the concrete.
• Use an angle grinder with diamond grinding blades to grind down the concrete until it is completely flat and level.
• Vacuum up dust created during grinding using a vacuum cleaner or dust extractor.
• Apply water-based sealers, such as epoxies and acrylics, to protect the concrete from staining.
• Use a buffer to refine the surface after grinding and polishing.
• Apply wax or polish for additional protection and shine.
Selecting a Professional Contractor to Install Polished Concrete
Polished concrete creation is not a DIY project and requires professional contractors to achieve the desired results. You can find qualified contractors in your area by researching online or requesting referrals from friends and family. Make sure to read customer reviews of any contractor you're considering to make the best selection for your home.
When you get a few potentials, you must ask them for examples of their previous work and inquire about the products they typically use. This will help you ensure you get the best quality polished concrete flooring for your home or business in Newcastle.
Common Questions Asked by Homeowners Before Installing Polished Concrete
The following are some of the most common questions asked by homeowners before installing polished concrete:
• What is the cost of installation?- the cost depends on several factors, such as the size of the area and the project's complexity.
• How long does it take to finish a polished concrete floor?- usually, it takes around two days for a standard job depending on the size.
• Is this a DIY project, or should I hire a professional contractor? - This is not a DIY project; you should always hire a professional contractor for the best results.
• What type of sealer should I use?- Depending on the desired finish, either epoxy or acrylic water-based sealers can be used.
We take your questions and concerns very seriously, so don't hesitate to contact us with any queries. We'll be happy to answer any of your questions and help you make the best decisions for making your polished concrete dreams come true in Newcastle! Check us out at Origin Concrete Newcastle
Caring for and Maintaining your New Polished Concrete Floor
Care is needed to ensure your polished concrete floor looks its best for years. Here are a few tips for looking after and maintaining your new floor:
• Make sure you vacuum or sweep regularly to remove any dirt or dust that accumulates on the surface.
• Use only cleaners that are safe for use on polished concrete floors, such as mild detergents.
• Apply a coat of sealer and wax every one to two years or as needed, depending on how much foot traffic the floor receives.
Why Choose Origin Concrete Newcastle today?
Polished concrete has become a popular flooring choice all around the world. It is stylish, durable and easy to maintain. Plus, you can create the perfect polished concrete floor for any space with so many colour choices and decorative options. If you're looking for quality craft and an exquisite finish that won't break the bank, then Origin Concrete Newcastle is your first choice. Our experienced team can help you with anything from preparing the subfloor to sealant coating and sharpening. We strive to exceed industry standards while providing timely service at competitive rates. Experience the ultimate luxury and convenience with our professionally installed polished concrete floors – call Origin Concrete Newcastle today!